Take advantage of a wide range of onboard services designed to make your vacation convenient, productive and memorable. From onboard Internet to photography services to onboard babysitting, your needs are met by our dedicated crew. Disney Crew Members are always available to assist you with your questions, needs and requests while you're on your cruise vacation. From our dedicated 24-hour Guest Services Desk to a host of specialty services, the greatest care is taken to ensure a hassle-free vacation experience for you and your family.
---
Guest Services Desk
The Guest Services Desk and a dedicated Guest Services phone line are available to you 24 hours a day. Crew members stationed at both are knowledgeable and committed to assisting you with your questions and requests. Foreign currency exchange and personal check cashing up to $100 are also offered.
Health Center
If you require medical assistance during your vacation, nurses and doctors at the Health Center are available to assist with your concerns and medical needs while onboard or when the ship is in port.
Port Adventures Desk
Crew Members are on hand to answer your questions and provide you with detailed descriptions of available shore excursions. They can help you make reservations for your desired excursions here, too.
Laundry Services
Take advantage of full-service laundry and dry cleaning, available with pickup from your stateroom for next-day return or sooner. 24-hour self-service laundry areas and ironing equipment are also provided.
---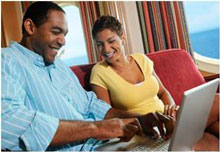 Internet and Cellular Services
Offering you convenient ways to stay connected to your friends, family and the rest of the outside world during your days at sea. Check email, keep up with your favorite sites and place calls to the mainland with incredible ease. Options like onboard wireless Internet connectivity, our Internet cafe, ship-to-shore calling and innovative Cellular At Sea phone service let you share your amazing vacation experiences as they happen.
The Connect@Sea onboard internet package pricing is based on the amount of megabytes (MG) used. The following shows a sample of packages available onboard and their pricing (subject to change):
Pay As You Go - Guests can start with this package if they are not sure how often they will be online.

$0.25 per MB

Small Package - This package is a good choice for occasional use. Even when on vacation, Guests may want to keep tabs on things at home. Guests can check their e-mail and then go back to enjoying their cruise.

100 MB for $19
($0.19 per MB

Medium Package - A package for moderate use. If Guests want their friends to see they are having a fabulous time, they can go ahead and post those photos right away!

300 MB for $39
($0.13 per MB)

Large Package - This package will cover all Internet needs. Guests can stream movies or their favorite music.

1,000 MB for $89
($0.09 per MB)
---
Wave Phones
Portable Wave Phones enable Guests to contact members of their party while onboard the ship or ashore at Disney's Castaway Cay. All staterooms offer two phones (four phones with suite categories) for complimentary use during the length of the cruise. Guests can rent an additional phone from Guest Services for $3.50 per day.
The Wave Phones are also used by Youth Clubs. Parents with children participating in activities are now never more than a text message or phone call away. All Guests are encouraged to utilize the Wave Phones for staying connected with their party. However, Guests can opt out and have service disconnected in their staterooms.
---
Photography
Disney Cruise Line photographers are ready to capture your cruise memories from the moment you board the ship. From custom studio portraits to spontaneous family pictures and meet-and-greet photos with some favorite Disney Characters, you'll find plenty of opportunities to strike a pose, then purchase and share amazing vacation pictures. For complete information on photography locations and schedules during your cruise, please check your Personal Navigator or visit the Guest Services Desk on Deck 3, Midship.
You can make the most of your vacation time by pre-ordering your photo packages and keepsakes online through My Cruise Photos.
You can make the most of your vacation time by pre-ordering your photo packages and keepsakes online through My Cruise Photos.
While onboard, Guests can find their photos at Shutters on Deck 4, Aft. Photos taken during the day are generally on display starting at 5:00 p.m., while pictures taken after this time will be available the following day.
For complete package and pricing information, explore the My Cruise Photos website or stop by Shutters while onboard.
For complete package and pricing information, explore the My Cruise Photos website or stop by Shutters while onboard.
---
Babysitting
The onboard nurseries are available for an additional charge:
$9* per hour for first child
$8* per hour for second child in the same family
Cancellations may be made without penalty up to 4 hours in advance of reservation.
Reservations can be made in advance, online up to:
120 days for Concierge and Platinum Castaway Club Guests
105 days for Gold Castaway Club Guests
90 days for Silver Castaway Club Guests
75 days for First-Time Cruisers
You can also make a reservation during the open house on Embarkation Day on a first-come, first-served basis. Because space is extremely limited, be sure to book your child's nursery stay early.
*Pricing subject to change.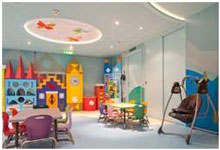 It's a Small World Nursery
Ship: Disney Magic, Disney Dream, Disney Fantasy
Inspired by the classic attraction, this nursery provides a colorful and soothing environment for children under 3 years. The nursery's décor is a stylized patchwork of colorful shapes with 3 distinct areas: An acclimation zone (designed to help youngsters adjust), a main play area with a facade of interactive features and a separate room for naps. The play area includes kid-sized tables and chairs for crafts, games and books. Plus, movie time and story time programs are sure to entertain.
Flounder's Reef Nursery
Ships: Disney Wonder
This nursery for children under 3 years of age immerses young Guests in a peaceful environment where soothing sea-blue walls adorned with seahorses, clams and bubbles mesh with an aqua floor of ocean waves and the sounds of calming music. This venue invites parents to enjoy more adult-oriented activities during the cruise while children are safely cared for by trained Disney counselors. The facility consists of 2 rooms, one for active play and one for a relaxed atmosphere.