The Disney Cruise Line® fleet devotes a generous amount of space for rejuvenation and recreation. From delightfully themed pools* and water-fun designed for specific age groups, to high-end spa and fitness facilities that revitalize and beautify, to state-of-the-art sports decks and arcades featuring the latest technology, Disney offers a full range of onboard spa services and recreation options. Beyond the main venues, each ship also offers additional opportunities for energetic fun such as a jogging track, ping pong tables, shuffleboard and daily activities providing active adventures throughout the ship.
*The United States Public Health Service requires that only children who are toilet trained be permitted to enter swimming pools onboard cruise ships.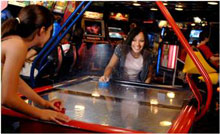 Arr-cade - Ship: Disney Dream, Disney Fantasy
Quarter Masters - Ships: Disney Magic®, Disney Wonder®
State-of-the-art arcades featuring the latest and greatest video games for the whole family. Utilizing a cashless system, each arcade offers a variety of the latest interactive games, plus thrilling classics, such as pinball and air hockey. Guests of all ages are invited to compete against each other and partake in some high-tech video fun. And with a number of retro-arcade games, parents might find themselves competing with their kids.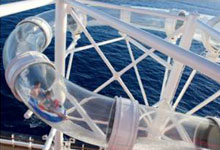 AquaDuck
Ship: Disney Dream, Disney Fantasy
A thrilling, transparent tube, water coaster which propels Guests on an exciting journey off the side of the ship, through the Forward Funnel and down 4 decks into a lazy river. A cruise industry first, this elevated coaster travels 765 feet and features an exciting drop. Designed for adults and children at least 42" or taller*, this exciting ride affords breathtaking views of the ocean and ship below - that is, if you're brave enough to keep your eyes open!
*Height appropriate Guests age 6 and under must also be accompanied by a Guest at least 14 years or older. Single riders must be at least 54" tall.
---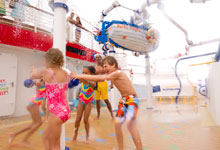 AquaLab
Ship: Disney Fantasy
Splash and play in the water play area on deck 12, near the entrance to the AquaDuck water coaster. Families can frolic among pop jets, geysers and bubblers in this fun 1,800 square-foot space. As the story goes, AquaLab was created by Donald Duck's nephews and features a variety of water "experiments" designed to drench the whole family. Children must be potty trained to use this area. Swim diapers are not allowed.
---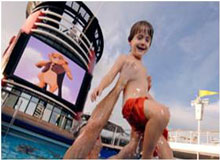 Donald's Pool - Ship: Disney Dream, Disney Fantasy (max depth 5 feet)
Goofy's Pool - Ships: Disney Magic, Disney Wonder (max depth 4 feet)
One of 3 freshwater pools, designed for families to enjoy a dip or relax poolside with an array of deck chairs (first-come, first-served basis). At various times, Crew Members host games and activities. Above the Pool is a state-of-the-art, 24-by-14-foot LED screen called Funnel Vision. Families can sit back, relax and watch classic Disney animated features, live-action movies or other programs, including popular TV shows and major sporting and broadcast events.
Children under 12 years of age must be accompanied by an adult to use the pool.
---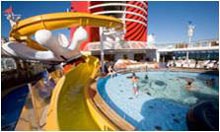 Mickey's Pool
Ships: Disney Magic, Disney Wonder, Disney Dream, Disney Fantasy (max depth 2 feet)
A Children's pool shaped like Mickey Mouse designed for young kids to safely splash and make friends. Crew Members host games and activities at various times daily. Plus, suspended by a gigantic Mickey Mouse hand, a yellow slide twists and turns, splashing down for an exciting and safe ride. To use the slide, children must be between the ages of 4 and 14. They also must stand at least 3 feet 2 inches tall (38 inches) and no more than 5 feet 4 inches (64 inches).
---
Mickey's Splash Zone
Ships: Disney Magic, Disney Wonder
The fun water play area is an extension to Mickey's Pool. It has been designed specifically for children not yet toilet trained and in swim diapers. Reminiscent of Mickey's sorcerer hat, the 385 square foot toddler water-play pool features star- and moon-shaped interactive fountains and splash zones.
---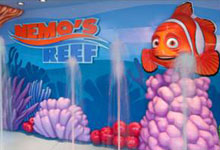 Nemo's Reef
Ship: Disney Dream, Disney Fantasy
A whimsical water play area designed for children, featuring fountains, bubblers, pop jets, and characters from the Disney·Pixar movie, Finding Nemo. Surrounded by a glass enclosure and shaded from the sun, the area features a soft wet deck surface for safety and comfort. The 1,500-square-foot venue includes character figures that move and spray water plus a mini-sized water slide. Nearby deck chairs allow parents to keep a close eye on their children. Nemo's Reef is for children ages 8 and under only. Swim diapers are allowed.
---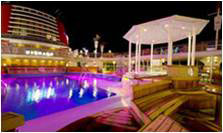 Quiet Cove Pool
Ships: Disney Magic, Disney Wonder, Disney Dream, Disney Fantasy (max depth 4 feet)
Reserved for adults 18 and older, this pool creates a relaxing escape amid a subdued environment. Conveniently near the Cove Bar, luxuriate in a calming space with sparkling blue water, perfect for cooling off and mingling with other grownups. Nearby, a jetted hot tub overlooks sweeping ocean views. Plush lounge chairs are also available (first-come, first-serve basis).
---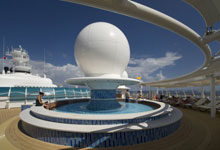 Satellite Falls
Ship: Disney Fantasy
Located on deck 13 forward is a circular splash pool with benches and a gently falling rain curtain that provides cool comfort for guests 18 and older. Around this upper deck, adult guests can soak up the sun in loungers or relax in the shade under a canopy.
---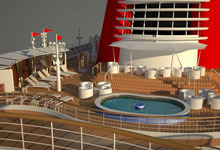 Wading Pool
Ship: Disney Fantasy
Guests of all ages can cool off on deck 12 forward in a wading pool with a fountain water feature. Ample seating and lounge chairs under a canopy offer a respite in the shade.
Spa & Fitness
Spa services are not included with the price of the cruise.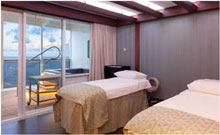 Senses Spa and Salon
Ship: Disney Dream, Disney Fantasy
Tranquility, pampering and relaxation in an ocean-view sanctuary providing therapeutic and personal care services for men and women. This immaculate setting offers spa treatments, massages, body wraps, facials, aromatherapy, manicures, pedicures, hairstyling and blowouts, plus teeth whitening at the Smile Spa, and a barber shop for traditional men's grooming services.
Experience pure tranquility and inner contentment in an environment designed to soothe the senses. Guests' bodies and spirits are nurtured in the spa's 17 private treatment rooms and 2 private luxury Villas. Guests who have booked a treatment are welcome to linger in the Relax Room, as well as enjoy the rainforest-themed aromatherapy steam room. Specialized areas within the Rainforest room include a Hamam (steam bath), a Caldarium (steam room) and Laconium (dry sauna).
Guests of the Senses Spa & Salon must be 18 years of age and older.
---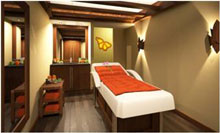 Chill Spa
Ship: Disney Dream, Disney Fantasy
A separate spa exclusively for teens ages 13 through 17 (inside Senses Spa & Salon) boasts a tranquil oasis with dedicated treatment rooms and seating area exclusive to teen Guests. Offering a wide variety of spa services and treatments, including facials, massages, and manicures, it's the perfect place for teens to relax, rejuvenate and indulge in soothing beauty treatments created just for them; such as a Heavenly Massage, Hot Chocolate Wrap and Ice Cream Manicure and Pedicure.
---
Vista Spa and Salon
Ships: Disney Magic, Disney Wonder
A blissful adults-only retreat offering services for women and men. Discover lavish comforts in a pristine 10,700 square-foot environment designed to stimulate the senses. Enjoy a wide range of pampering treatment packages from herbal wraps and botanical skin therapies to special massages that utilize ancient techniques. You can even sink into deep serenity in our rainforest-themed aromatherapy steam rooms or a sauna fashioned after a Roman bath.
Spa Villas Treatments are offered in elegant Mediterranean-inspired suites with open-air verandahs where you can discover a tranquil oasis. Once there, select from a rich range of spa packages for individuals or couples. Then, match your inner glow by discovering our salon services which include hairstyling, makeup and teeth-whitening, to name just a few.
Guests of the Vista Spa & Salon must be 18 years of age and older.
---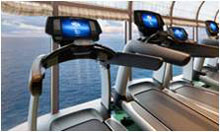 Fitness Centers
Ships: Disney Magic, Disney Wonder, Disney Dream, Disney Fantasy
An expansive exercise facility with a breathtaking ocean view. Make the most of the state-of-the-art cardiovascular equipment and weight machines, as well as numerous classes and seminars offering aerobics, yoga and Pilates instruction. For a fee, you can schedule a one-on-one 60-minute session with a personal trainer. Reservations may be set up at the Fitness Center once onboard.
Guests of the Fitness Centers must be 18 years of age and older.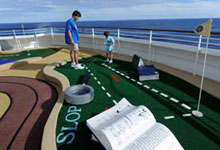 Goofy's Sports Deck
Ship: Disney Dream, Disney Fantasy
An all ages, open-air activity center. It's the perfect place for kids, teens and adults to partake in active recreational fun. Start with a whimsical, Disney-themed course with 9 interactive holes and a goofy twist.Quirky golf clubs, some crooked and bent, will challenge golfers to stay on course. Digital sports simulators provide a variety of state-of-the-art virtual sports-gaming experiences that include soccer, golf, tennis and basketball. Realistic graphics and sounds, invite you to kick, swing, throw and compete, without having to chase a ball. Finally, enjoy a basketball court that can be easily re-configured into a mini-soccer pitch or volleyball court. 2 mini-sized courts offer little ones a chance to play at their pace.
Simulator Cost:
Golf: $25-half hour, $45-hour
Sports: $12-half hour, $20-hour
Cancellation: 50% of the simulator booking fee is charged for day-of cancellations or for no-shows.
---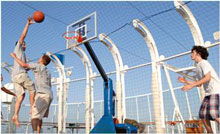 Wide World of Sports Deck
Ships: Disney Magic, Disney Wonder
A massive open-air activities area featuring basketball and volleyball courts. In this dynamic environment, you're sure to find a friendly pick-up game to join, or a volleyball or soccer net to practice your shots. Kids, teens and adults of all ages are invited to enjoy this outstanding place for fun activity and fresh air. This deck is also a wonderful place for gazing out at the ocean to enjoy sweet sea breezes and sweeping, panoramic views from the highest vantage.