Disney Cruise Line®, the undisputed leader in children's cruise entertainment, offers dedicated clubs and lounges plus customized interactive programs for kids, tweens and teens ages 3 to 17 years. Disney was the first cruise line to offer almost an entire deck for children's activities and a dedicated space just for teens. Plus, Disney has some of the industry's longest operating hours for children's activities. And while kids enjoy the most extensive youth activity areas at sea, parents can enjoy the ship thanks to an onboard communication service allowing kids to contact their parents anywhere on the ship.
---
Disney's Oceaneer Club
This lavish children's activity center is the ideal place for children 3 to 12 to dress up as a favorite Disney character, play computer games and enjoy a wide variety of supervised themed activities throughout the day. While some activities are recommended for certain age groups, participation is based on a child's interest level and maturity - not age. As a result of this, siblings and friends can play together without restriction.
Ships: Disney Wonder®
Inspired by Disney's Peter Pan, the space is designed to look like Captain Hook's pirate ship. Boasting a treasure chest-themed television set, lamps that resemble barrels, hanging ropes, wooden planks and a glistening fiber-optic night sky, the club provides a magical setting where kids can learn, play and interact with others. Other features include a computer lab with child-friendly computers, crow's nest slide and rope bridge for exploring, Captain's Closet dress-up room, dance floor, a small stage for games and multiple televisions. An endless supply of toys and games, an open seating area for arts and crafts, and ongoing Disney movies make the space even more magical. Mats for naps are also available.
---
Disney's Oceaneer Lab
This activity center dedicated to adventure and exploration is the ideal place for children ages 3 to 12 to play games, perform educational experiments, access computer games and enjoy a wide variety of supervised activities. Kids 8 to 12 years of age also can check themselves in and out of Disney's Oceaneer Lab at their parents' discretion.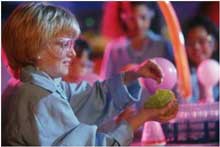 Ships: Disney Magic, Disney Wonder
This futuristic and fun setting provides a wide range of delightfully themed activities, toys, games and Disney movies to make the perfect oasis at sea. It features decorative planetary orbs, sparkling fiber-optic stars and interactive lab stations where children can perform educational experiments. Other elements include a computer lab, science lab, reading area, lounge area and multiple televisions. An endless supply of toys, games and Disney movies make this the perfect oasis at sea.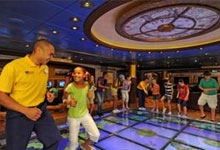 Ship: Disney Dream, Disney Fantasy
The main room features a stage where kids can hear stories of expeditions, take part in a ship-wide quest game and star in their own play. A 103-inch plasma screen shows Disney movies and provides interactions with Disney's animated alien, Stitch. In a workshop and laboratory, kids concoct crazy experiments, stretch their culinary skills and participate in other hands-on activities. Branching off the Lab's main room are several themed play spaces:
---
Edge
This special lounge is available exclusively to tweens-children 11 to 14 years of age.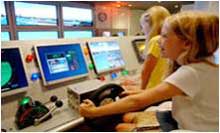 Ships: Disney Magic, Disney Wonder
This interactive space is designed to look like the ship's bridge where pre-teens can steer a virtual ship, play videogames, watch television and participate in arts and crafts. Tweens can also sing karaoke, go on scavenger hunts and take part in special themed nights. The space features kid-friendly computers, videogame consoles with the latest games and plush couches for relaxing with new friends.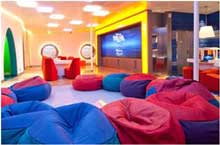 Ship: Disney Dream, Disney Fantasy
It's hi-tech entertainment including an illuminated dance floor, notebook computers and a state-of-the-art video wall stretching 18 feet long and nearly 5 feet tall with 18 individual LCD screens. Edge's prime location offers views of the pool decks below with portholes providing silhouetted views of AquaDuck riders as they zoom through the water coaster. Plus thanks to green screen rooms, tweens can superimpose their image in both photo postcards and video karaoke.
---
Vibe
It's "teens-only" in this exclusive space for those ages 14 through 17. Here, teenage Guests can listen to music, watch television, play videogames or take part in a number of other activities chaperoned by some of the coolest counselors at sea.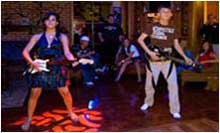 Ships: Disney Magic, Disney Wonder
Designed to resemble a college dorm recreation room or hip urban coffee shop, this space boasts plush couches, a dance floor, a mirrored wall and a bar with stools. This teen haven offers opportunities to socialize with cruisers their own age with flat-screen televisions, videogames, board games, DVD players and a wide range of fun activities like dance parties and karaoke.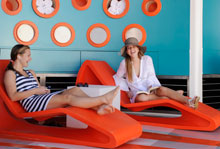 Ship: Disney Dream, Disney Fantasy
This indoor/outdoor lounge has the look and feel of a hip urban coffee shop and stylish nightclub with mod, movable furniture and cushy chairs to relax in style. The venue features a coffee bar, multi-screen video wall and a media room for catching a movie on a 103-inch LCD screen with digital surround sound. A lighted, multi-color disco floor and video wall set the stage for dance parties, where aspiring DJs can spin and mix tracks. For a laid-back experience, teens can recline in individual nooks and watch a personal video screen or play video games. The private outdoor deck provides fun in the sun with mod chairs and chaise lounges for sunbathing plus "splash" pools, fountains, pop jets and misters to cool off. There are also deck games such as ping-pong, foosball and a giant checkerboard.
---
Bibbidi Bobbidi Boutique
Ship: Disney Fantasy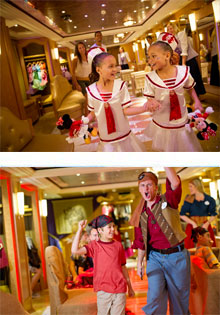 When young princesses-to-be make their royal entrance at the Bibbidi Bobbidi Boutique they are greeted by their very own Fairy Godmother-in-training who transforms them with magical makeovers. (Guests ages 3 - 12)
On pirate party nights aboard the Disney Fantasy, Bibbidi Bobbidi Boutique transforms into a swashbuckler's hideaway where boys, girls and grownups can get ready for the pirate life. (Guests ages 3 and up)
Click here to see more information on Bibbidi Bobbidi Boutique packages & pricing.
In order to reserve packages at the Bibbidi Bobbidi Boutique, log onto disneycruise.com and select My Cruise Activities from the Planning Center drop-down menu. For the Royal Sea Package only, click here to download an order form. Once completed the form should be emailed to DCL.SHORE.EXCURSIONS@disney.com.
You may also make a reservation while aboard the ship by calling or visiting Bibbidi Bobbidi Boutique, located on Deck 5, Midship. Appointments are made on a first-come, first-served basis. Because space is extremely limited, be sure to book your appointment early.
Additional charges apply for Bibbidi Bobbidi Boutique makeovers. A $10.00 per person cancellation charge will be applied to the Guests' folio when Guests do not show or have not cancelled their appointment 24 hours or more prior to the reserved time. All pricing in US dollars.