Downtown Disney® District Shopping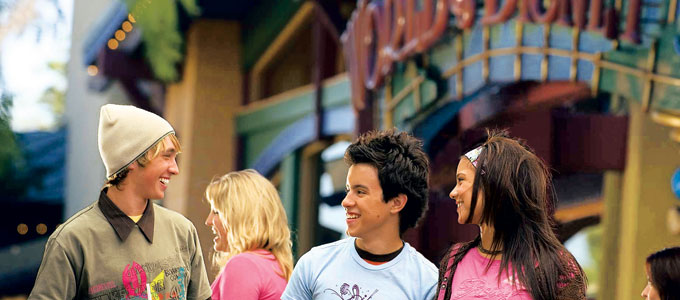 Strolling through Downtown Disney® District is unlike any other place in the Anaheim Resort. Shops, nightclubs, fine dining and entertainment are all part of this beautifully landscaped promenade. One-of-a-kind treasures can be found within the shops here.
Apricot Lane
This trendy boutique features celebrity-inspired fashions and designer labels, plus the perfect collection of branded fashion apparel, jewelry, handbags and accessories to create a look right off the pages of your favorite fashion magazine.
Blink
This new "pop-up" boutique from Wet Seal features the latest trends in denim, along with an assortment of fashion tops and accessories. Stop by and let the Blink "Denim Experts" help you put together the perfect look.
Build-A-Bear Workshop®
Make your beary own best friend at the Pawsitively Fun Family Experience®. Pick from dozens of basic bears, make a wish and place a heart inside your bear. Then name it and receive a personalized birth certificate or storybook. There are over 100 outstanding outfits and add distinctive accessories to select from and everyone takes their bear home in a Cub Condo® carrying case.
Disney Vault 28
Replete with hip, funky, sexy, comfy clothes this contemporary style boutique - paired with an upscale "Disney" creative edge - a place where unexpected finds in apparel, jewelry and accessories is synoy'mouse' with today's latest styles. This unique stylish, fashion store will offer an ever-changing mix of clothes and accessories for both men and women as well as a select range of gifts and home accessory items. Disney Vault 28 has an urban eccentric feel that captures the fashion, art, and music that reflects southern California lifestyle.
Disney's Pin Traders
Disney's Pin Traders is the destination for the avid or novice Disney pin trader. Discover exciting pins and accessories to add to your collection, or begin a new one. Pop in to trade pins with other Guests and Cast Members.
ESPN Zone® Studio Store
As part of a total dining, entertainment and shopping experience, the spectacular SportsCenter Studio Store allows you to take a piece of ESPN® home. Find an exciting assortment of exclusive ESPN® and ESPN Zone® merchandise and memorabilia including shirts and jerseys for all members of the family (including the littlest teammates). There is also ESPN® glassware, pins and collectible balls plus Anaheim Angels and Mighty Ducks gear.
Fossil®
Fossil incorporates a vintage-American design into its product line to reach customers who are young-at-heart. Fossil produces over three hundred different styles of watches in a line that continually changes. Fossil's selection of fashionable accessory items to include sunglasses, as well as a variety of retro-designed wallets, handbags, belts, and other fashionable leather goods. Fossil's customers can easily find the right bag, sunglasses, and belts to complete their look.
House of Blues® Store
As part of a total dining, entertainment and shopping experience, House of Blues® gives you a right to sing the blues with a special creation from this Cajun collection of authentic HOB shirts (including the legendary "Jake and Elwood" series), captivating caps, hip hot sauces, marvelous martini and shot glasses, collectibles and a selection from the exclusive House of Blues® Art Collection with paintings and sculptures by more than 60 self-taught creators from the Delta region of the American South.
Island Charters
Enter a tropical setting with planes overhead and ships on the horizon. Find an array of collectible models, toys for all ages, clothing fit for the adventurer including authentic leather flight jackets, one-of-a-kind memorabilia and gifts and breathtaking boat reproductions. There is also an unsurpassed collection of hand-crafted mahogany airplanes, from the Red Baron to the Stealth.
LittleMissMatchedTM
LittleMissMatched is on a mission to: 1) solve the age-old problem of the disappearing sock, 2) transform everyday products into necessary accessories, 3) give kids of all ages permission to express themselves and 4) allow girls to be girls for as long as they want.
But socks were just the beginning. They've got all kindsa stuff that'll knock your boring white socks off! From books to bedding, PJ's to pencil pouches and flip flops to furniture, they're all about creativity and individuality. They want you to express yourself!
Marceline's Confectionery
Step into a world both nostalgic and contemporary, where a family tradition continues and the sweet aroma of homemade favorites fills the air. Watch the wondrous candy-making process and delight in gourmet truffles, boxed chocolates, lollipops and all sorts of ready-to-eat sweets-handmade and dipped before your eyes.
Quicksilver
Choose from hundreds of stylish goods from such leading designers as Billabong, Hurley, Ripcurl, Quiksilver, Oakley and more. Try on trunks, boardshorts, shirts, sweats, caps, pants and shorts. It's easy to accessorize with the selection of backpacks, bags, chokers, anklets and slippers.
Rainforest Retail Shopping Village
Find a wild assortment of remarkable Rainforest keepsakes, many featuring the exclusive "Wild Bunch" characters among colorful clothing, sparkling jewelry, bath products, home accessories, toys, games and gifts. Gift certificates are also available for purchase.
RIDEMAKERZ®
RIDEMAKERZ® is a supercharged interactive experience that lets kids build, customize and trick out their very own radio-controlled vehicles! Satisfy your need for speed with over 649 million ways to create a mean machine. Vehicle models include dozens of real world and concept cars: Ford Mustangs, Dodge Vipers, Chevy Corvettes, hot-rods, pick-up trucks, sport coupes and more! Choose from hundreds of accessories like Decalz, Side Pipez, Blown-Out Enginez, Spoilerz and Tail Pipez to unleash a one-of-a-kind ride.
Sanuk
The name of this new shoe store means "fun" in Thai - step inside and see why! Offering the largest selection of products available outside of the company's online store, this flagship location offers flip-flops, surf sandals and other innovative beach footwear - including their signature yoga mat flip-flops.
Sephora
Step into a world of freedom, beauty and pleasure where you can touch, smell and experience the best names in beauty. Indulge in new and classic scents, favorite brands of make-up, scintillating skincare for men and women, lush shower gels and lotions plus heavenly hair treatments and accessories.
Something Silver®
Experience stunning silver craftsmanship at its best, each and every piece a work of art. Be mesmerized by extraordinary exclusive pieces, necklaces, earrings, rings, bracelets, charms and pendants for both men and women. Find pins, key chains and money clips plus grand gifts for baby.
Studio Disney 365
Ever wish you could rock out like some of your favorite Disney Channel stars or become a huge superstar and have paparazzi waiting to snap your picture...Now you can! With your star quality you can ride the wave of success to Hollywood, and have your 15 minutes of fame. First, determine your level of star quality from fabulous & famous to secret star with a transformation that will not only make you look but also feel like your favorite celebrities.
Next meet your fans and have your picture snapped by our waiting paparazzi and give them a glimpse of what a true superstar looks like. Finally get in touch with your inner "fashionista" by choosing from a wide array of fashion apparel and accessories that will complete the look. And that's a wrap!
Sunglass Icon
Beat the glare and find glasses galore from designers like Chanel, Oliver Peoples, Gucci, Oakley and more. An interactive feature, the "Social Sun" screen, will allow for a fun, social experience. Imagine trying on a new style of sunglasses, taking a picture and immediately emailing it to a friend or posting it to Facebook so friends and family can give feedback on your sunglass selection!
The LEGO® Imagination Center - newly remodeled
Guests can enjoy a brand new interactive outdoor play area, all-new play areas inside the store, and of course, new large scale LEGO models located both inside and outside the re-imagined LEGO store.
Travelex®
Fulfill all your foreign exchange needs. Here guests can convert foreign currency to United States dollars or any other currency, buy and/or exchange travelers checks and secure credit card advances and wire transfers.
Walt Disney Travel Company
Once you've arrived at the Disneyland® Resort, the Walt Disney Travel Company Guest Services team can help you plan and make the most of your Disney and Southern California vacation. Depend on their special brand of service and travel knowledge - after all, they don't just sell Disney, they are Disney. Ask a well-informed cast member to assist you with any changes to your current package and make reservations for your next magical trip.
WonderGround Gallery
Showcasing artwork inspired by Disney·Pixar films, characters and icons, as well as paying tribute to the one and only Mickey Mouse, more than 25 local and domestic up-and-coming artists will have their unique interpretations available for you to add to your Disney collection.
World of Disney® Store
Strike the goldmine of Disney treasures and keep your memories fresh. Overwhelming in its magnitude with confetti and playful cartoon touches of Mickey and friends, this shopping paradise is filled with an incredible assortment of Disney toys, apparel, souvenirs and collectibles. This is the second largest Disney store in the world.