Come immerse yourself in the power of the Force during Star Wars™ Weekends at Disney's Hollywood Studios®.
Here, you'll find an entire saga's worth of characters and celebrities on hand for autographs, pictures, motorcades, Q&A sessions and more, including the Jedi Training Academy for your Padawans.
Star Wars © 2012 Lucasfilm Ltd. & TM.
Event Dates: Friday, Saturday and Sunday, May 16 - June 15, 2014
Event Tickets: Admission to Disney's Hollywood Studios required.
Characters
Encounter over 50 Star Wars characters from the entire saga. From Darth Vader to Darth Maul and Anakin to Chewbacca, you'll find heroes and villains from throughout the galaxy.
Celebrities from Star Wars will attend each weekend and participate in:
Autograph Sessions
Legends of the Force – Celebrity motorcade
Stars of the Saga – Talk Show and Q&A
Jedi Training Academy
Each young Padawan who is chosen will learn a lightsaber combination as they prepare to face the dark side!
Symphony in the Stars
Cap off your day in a galaxy far, far away with a finale celebration featuring Star Wars characters and a frenzy of fireworks, complete with Glow with the Show effects.
Adventures at Premiere Theater
Soak up the spectacle as popular Star Wars characters and actors appear at the Premiere Theater!
Some of the scheduled events include:
Star Tours®
The power of the Force and the magic of Disney will combine once again to create an unforgettable Star Wars adventure: Star Tours - The Adventures Continue - now in 3D at Disney's Hollywood Studios!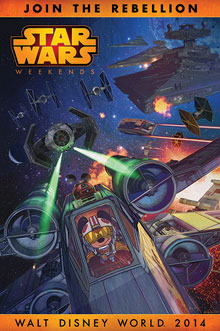 While visiting that "galaxy far, far away," experience a new story, plus a chance to fly with some favorite characters like C-3PO, R2-D2, Princess Leia and even Darth Vader! You'll never know which of these classic characters will appear during this flight to the furthest reaches of the universe.
Plus, travel the galaxy like never before in the Starspeeder 1000!
Glide among the trees with Wookiees on Kashyyyk, kick up some sand across the desert in a podrace on Tatooine and even submerge into the lake waters of Naboo. Or, weave through the busy city planet of Coruscant, blast through the blizzards of Hoth and even explore the trenches of the Death Star! With multiple ways to experience each flight, you will never know where the Force might take you! And with each adventure, see the Star Wars universe in an all new way…in 3D!
Padawan Mind Challenge
Kids under 12 can test their wits before the Jedi Council!
Appearances and entertainment subject to change without notice.
Star Wars © 2012 Lucasfilm Ltd. & TM
Star Tours ©Disney/Lucasfilm Ltd.