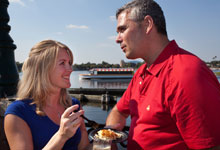 Food and wine lover's paradise awaits you at Epcot® with the Epcot International Food & Wine Festival Fall 2013!
There's something to satisfy most every taste and interest. In addition to the attractions Guests already enjoy at Epcot, this annual autumn event features a delectable array of offerings, including:
International kiosks featuring tasty tapas and refreshing beverages
Cooking demonstrations and dining events-including experiences with celebrity chefs!
Mixology classes and wine tastings
Live musical performances by popular hit-makers
Enjoy all this—and more—when this annual event returns to Epcot in Fall 2013. Dine your way around the world. Cultivate your cooking skills. Savor a rare vintage. Enjoy an exhilarating outdoor concert. Make magical memories to last a lifetime at Epcot International Food & Wine Festival.
Event Tickets: Epcot Theme Park admission is required and some events require additional fees.
Eat to the Beat Concert Series: To be determined
2012 Highlights included:
Chocolate Experience: From the Bean to the Bar Hosted by Ghirardelli® Chocolate Company - Immerse yourself in the seductive sights, scents and flavors of chocolate at this new experience! Marvel at sweet sculptures created by Disney pastry chefs and learn about the food's fascinating origins. Sample a few sweet treats and shop for gourmet chocolate gifts. Be sure to try Drinking Chocolate (it's like a liquid candy bar!) or a glass of wine. Open daily from 9:00 a.m. through park close.
The Watermelon Patch Hosted by The National Watermelon Promotion Board - Visit a real watermelon patch! See watermelons growing and discover fun facts and tips from Mr. Food.
Sampling at the Festival Center Wine Shop - Visit the Festival Center Wine Shop for daily wine samples provided by our participating beverages companies. Open daily at 11:00 a.m., 1:00 p.m., 3:00 p.m. and 5:00 p.m.
Book Signings and Meet & Greets: Meet celebrated authors and personalities, and have them autograph your purchased book or merchandise. Check the daily schedules or visit the Festival Information Desk for details.
Bottle Signings: Meet the winemaker and have your purchased bottle of wine autographed—great for a souvenir or special occasion! Check the daily schedules or visit the Festival Information Desk for details.
Authentic Taste Seminars Hosted by Driscoll's® Only The Finest Berries™: Learn about the origins, properties and history of pure ingredients in lively, 30-minute presentations by subject experts. Fridays, Saturdays and Sundays at 12:15 p.m., 2:00 p.m., 4:00 p.m. and 6:00 p.m.
Seasons of the Vine: View a "behind-the-scenes introduction" to wine growing. This 7-minute film runs continuously each day.
"Discover the Cranberry" Hosted by Ocean Spray® Craisins® Brand Dried Cranberries: Before entering World Showcase, visit the Cranberry Bog Display. Learn about the history, harvesting process and health benefits as you sample this unique fruit.
Home Entertaining Seminars Hosted by HGTV: In these 30-minute seminars, learn from HGTV and DIY celebrity designers, who will be featuring tips on holiday table setting, herb and vegetable gardening, and kitchen or dining room changes. Friday through Sunday at 12:00 noon, with meet-&-greets at 1:00 p.m. and 3:00 p.m.
Demonstrations & Seminars (Additional Fee Required)
Learn to create mouthwatering recipes or learn a little more about food and wine. The following seminars and demonstrations are available at a fee, in addition to your Epcot theme park admission.
Culinary Demonstrations: Celebrated chefs and beverage professionals offer helpful tips and tasty samples at these 45-minute culinary demonstrations. At 1:00 p.m., 3:00 p.m. and 5:00 p.m. daily. $11 and $14 per person, tax included.
Wine/Beverage Seminars: Meet a featured winery principal or beverage expert, learn a handful of tips and sample the selected wines/beverages. Monday through Thursday at 12:00 noon, 2:00 p.m. and 4:00 p.m.; and Friday through Sunday at 2:00 p.m. and 4:00 p.m. $11 and $14 per person, tax included.
Mixology Seminars: A mixologist demonstrates the art of preparing trendy and classic cocktails, then serves you the final product. Cheers! At 6:00 p.m. daily. $14 per person, tax included.