Fun for Little Ones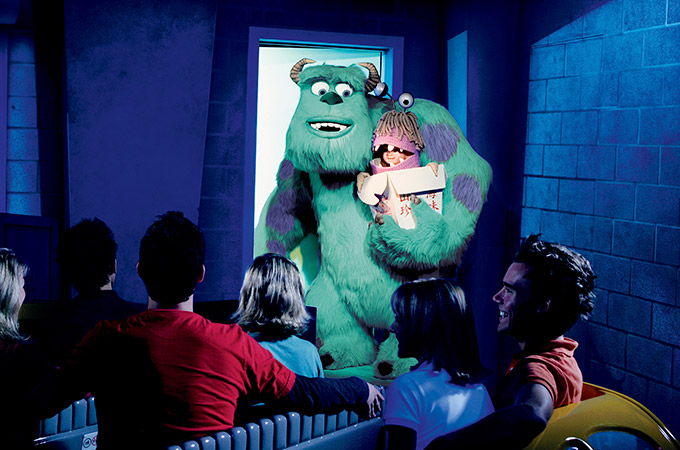 Flik's Flyers
Flik, the ant who proved himself a resourceful inventor has created a whimsical hot air balloon ride just for you. Ride in Flik's bug-made contraption fashioned from man-made objects, proving "one man's trash is another bug's treasure". Leaves and twigs stitched together become "balloons" that you ride as you whirl around a pie plate centerpiece. Inspired by Disney·Pixar's "A Bug's Life."
Location: "a bug's land"
Francis' Ladybug Boogie
Boogie down with all six legs! Your favorite Toons dance to their favorite tunes.. Steer clear of the near-miss action and enjoy the ride in a ladybug on this hectic figure eight shaped dance floor as you miss collisions in the nick of time! Inspired by Disney·Pixar's "A Bug's Life."
Location: "a bug's land"
Games of the Boardwalk
Step right up, ladies and gentlemen, and test your skill at one or all of these turn-of-the-century-style games! Journey back to a time when the midway was the best way to find fun. Rub your lucky rabbit's foot or kiss a four-leave clover and let the games begin!
Location: Paradise Pier
Heimlich's Chew Chew Train
Heimlich journeys for tasty morsels and takes you along for a ride down a switchback trail lined with delectable goodies. Ride the rails on Heimlich's back as you travel at the whim of the taste buds of one famished bug. Listen to Heimlich talk as he anticipates the treat sensation he's about to enjoy. Even use all of your senses, including smell! Inspired by Disney·Pixar's "A Bug's Life."
Location: "a bug's land"
Jumpin' Jellyfish
Sail straight up 40 feet into the air and drift like a jellyfish back down in this kid-friendly experience that's enough to make you jump for joy. Billowing parachutes enhance the sensation that you are riding in a giant jellyfish and a towering kelp garden maintains the feeling that you are underwater. There's nothing fishy about why this will make a splash with kids of all ages.
Location: Paradise Pier
Height Requirement: 40" (102 cm) or taller. There is a 350-pound maximum combined passenger weight (per vehicle).
King Triton's Carousel
The only horse you'll find on this unique marine menagerie of a carousel is a seahorse. This bejeweled, ornately hand-carved, aquatic carousel features a prancing herd of colorful sea horses, flying fish musical whales, dancing dolphins and silly sea lions all spinning to the music.
Location: Paradise Pier
Monsters, Inc. Mike & Sulley to the Rescue!
Chase through scenes inspired by Disney's Presentation of Pixar's "Monsters, Inc." Open the door to a wild ride through the streets of Monstropolis! Hop in a taxi and follow along as Mike and Sulley embark on a mad scramble to return Boo to her bedroom, while keeping her safe from the sneaky Randall Boggs and the Child Detection agency. Receive a personal farewell from the ever-watchful Roz. Inspired by Disney·Pixar's "Monsters, Inc."
Location: Hollywood Pictures Backlot
Princess Dot Puddle Park
Don't be bugged if you get a little wet in this water play area that features more than one way to cool off. There is an oversized hose nozzle with water that spurts randomly — so keep your antennae up! And don't forget to look out for the leaky hose on the giant spigot. Everyone, from the smallest larva to the biggest bug, will think this is cool! Inspired by Disney·Pixar's "A Bug's Life."
Location: "a bug's land"
Redwood Creek Challenge Trail
Come to Wilderness Explorer Camp to meet Russell and Dug, from Disney·Pixar's Up. Search forested paths, try your hand at rock climbing and swing on rope bridges along the Redwood Creek Challenge Trail — an outdoor recreational area for Guests of all ages. Earn Wilderness Explorer badges along the way! Some challenges have age and height requirements.
Location: Golden State
Height Requirement for Log Slides: 32" (82 cm) or taller
Height Requirement for Traverse Wall (rock climbing wall): 42" (107 cm) or taller
Height Requirement for Cable Slide (zip line): 42" (107 cm) or taller
The Little Mermaid ~ Ariel's Undersea Adventure
"This is the first time you're going to be able to ride through the experience of The Little Mermaid. We want to make this a very immersive attraction to where we're actually to take people under the sea. It's mostly just good old fashion theatrical story telling that we're using. We also have some new special effect technologies that we want to utilize here…The Little Mermaid is going to be an incredible experience." - Interviews with Walt Disney Imagineering.
Location: Paradise Pier
Here is a video with a backstage look of the new attraction!
Tuck and Roll's Drive 'Em Buggies
You never know whom you might bump into under the circus tent! At P.T. Flea's circus, the acrobatic Tuck 'n' Roll, from Disney·Pixar's "A Bug's Life" put on quite a show and you are along for the ride. You drive your own bumper car that looks just like a pill bug. Tuck 'n' Roll themselves direct you with their wild gibberish. Inspired by Disney·Pixar's "A Bug's Life."
Location: "a bug's land"
Height Requirement: 36" (91 cm) or taller to ride and 48" (122 cm) to drive