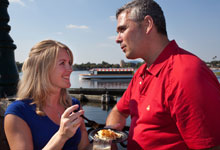 Food and wine lover's paradise awaits you at Epcot® with the Epcot International Food & Wine Festival Fall 2014!
There's something to satisfy most every taste and interest. In addition to the attractions Guests already enjoy at Epcot, this annual autumn event features a delectable array of offerings, including:
International marketplaces featuring tasty tapas and refreshing beverages
Cooking demonstrations and dining events-including experiences with celebrity chefs!
Mixology classes and wine tastings
Live musical performances by popular hit-makers
Enjoy all this—and more—when this annual event returns to Epcot, September 19 - November 10, 2014. Dine your way around the world. Cultivate your cooking skills. Savor a rare vintage. Enjoy an exhilarating outdoor concert. Make magical memories to last a lifetime at Epcot International Food & Wine Festival.
Event Tickets: Epcot Theme Park admission is required and some events require additional fees.
New Premium Packages:
New Premium Events for 2014:
Dining Through the Decades, A Tribute to Walt Disney (Oct. 24) US $99 or US $119 per person
Experience Puerto Rico - The All Star Island (Sept. 20) US $99 per person
Boot Camp Series Interactive Epicurean Adventure (Sept. 21, Oct. 5, 12, 19, Nov. 2) US $119 per person
Food for Thought (Fridays, plus Saturday, Oct. 11) US $169 per person
Mediterranean Food & Wine Pairing (Wednesdays) US $55 per person
Italian White Truffle & Wine Pairing Dinner (Oct. 2, 9, 16, 23, 30) US $295 per person
Popular Returning Events:
Parisian Breakfast (Saturdays) US $39 per person
"3D" Disney's Dessert Discovery (Oct. 3, 10, 17) US $59 or US $99 per person
Culinary Adventures in Signature Dining (more than 20 dinners throughout the festival; prices vary)
Shake and Indulge Like the French Featuring Grand Marnier (Saturdays beginning Sept. 27) US $55 per person
Cheese Seminars (Saturdays) US $79 per person
Party for the Senses (Oct. 4, 11, 18 and Nov. 1) US $149, US $189 or US $299 per person
Party for the Senses Featuring Disney Chefs from Around the World (Oct. 25) US $149, US $189 or US $299 per person
Food & Wine Pairings (Tuesdays and Thursdays) US $55 per person
Sunday Mornings With… (Sundays) US $99 per person
Plus, your Clients can also enjoy Italian and French pairings and lunches, a Japan "Hibachi Experience," and a Mexican tequila lunch, as well as popular Culinary Demonstrations (US $15), Mixology Seminars (US $15) and Wine Seminars (US $15).
Reservations for Premium Events open July 31, 2014. Contact 407-WDW-FEST to book your Clients. Premium Events are non-commissionable.
Download flier here. (Adobe PDF - Do not send by email to persons in Canada)
Eat to the Beat Concert Series
Jo Dee Messina
The Pointer Sisters
The Commodores
Christopher Cross
Hanson
Air Supply
STARSHIP starring Mickey Thomas
Sugar Ray
Fuel
Sister Hazel
Richard Marx
Billy Ocean
Night Ranger
Smash Mouth
Jim Brickman
Los Lonely Boys
Wilson Phillips
Dennis DeYoung, original member of the group STYX
38 Special
Boyz II Men
David Cook
Big Bad Voodoo Daddy

Sept. 19 - Sept. 21
Sept. 22 - Sept. 23
Sept. 24 - Sept. 25
Sept. 26 - Sept. 27
Sept. 28 - Sept. 29
Sept. 30 - Oct. 2
Oct. 3 - Oct. 5
Oct. 6 - Oct. 8
Oct. 9 - Oct. 10
Oct. 11 - Oct. 12
Oct. 13 - Oct. 14
Oct. 15 - Oct. 16
Oct. 17 - Oct. 19
Oct. 20 - Oct. 22
Oct. 23 - Oct. 24
Oct. 25 - Oct. 26
Oct. 27 - Oct. 28
Oct. 29 - Oct. 31
Nov. 1 - Nov. 2
Nov. 3 - Nov. 5
Nov. 6 - Nov. 7
Nov. 8 - Nov. 10
Epcot admission is required. Some Epcot International Food & Wine Festival events require ticket fees in addition to admission to Epcot. Availability is limited for some events. Events may be rescheduled or cancelled at any time. Concert is included in regular Epcot admission. Entertainment subject to change without notice.