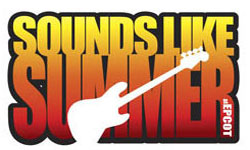 Summer just isn't summer without great tunes. And summer nights mean sizzling entertainment at Epcot®! During the annual Sounds Like Summer Concert Series, enjoy high-energy performances from some of the world's greatest tribute bands.
Get the family together and get into the groove with the songs you all know and love. Dance to classic hits and have a toe-tappin' good time under the skies of the open-air America Gardens Theatre in World Showcase.
Three shows nightly at 5:45 p.m., 7:00 p.m. and 8:15 p.m.
Event Dates:

June 8-14
Hotel California - A Salute to the Eagles
June 15-21 DSB - Journey Tribute Band
June 22-28
Good Vibrations - A Celebration of the Beach Boys
June 29-July 5
Don't Look Back - Boston Tribute Band
July 6-12
Stayin' Alive - A Tribute to the Bee Gees
July 13-19
Slippery When Wet - The Ultimate Bon Jovi Tribute
July 20-26
2U - A Tribute to U2
Event Tickets
: Admission to
Epcot
required.