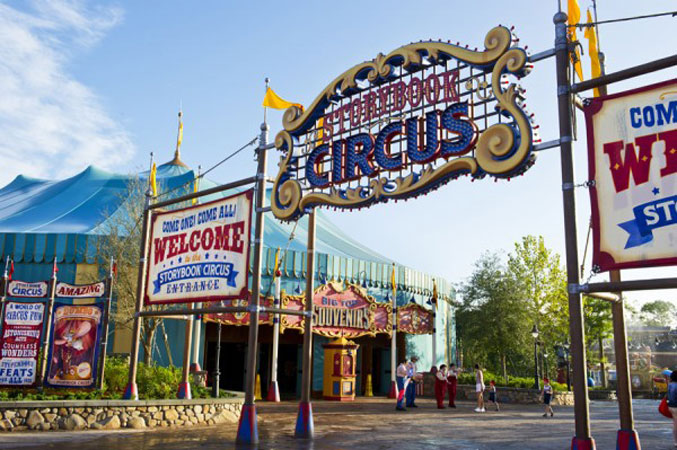 Seven Dwarfs Mine Train - Now Open!
Race through the diamond mine from Snow White and the Seven Dwarfs on an adventurous family coaster! - The lovable world of Sleepy, Doc, Grumpy, Bashful, Sneezy, Happy and Dopey comes excitingly to life on a rollicking, musical adventure into the mine "where a million diamonds shine". As guests twist and turn through the mine, the cars rock back and forth, adding an extra family-friendly thrill element. Riders tour through the cavernous mine's winding track - jutting outside to climb and dip through the wooded landscape, and then re-entering the mine at different points.
Help Doc at an Interactive Queue - Within a covered wooden tunnel carved into the mountainside, discover a series of mining stations prepared by Doc, each one a gem of its own:

Jewel Sorting - Follow Doc's instructions, etched into a nearby plank, and help match jewels by color and shape as they flow down a wooden trough - a.k.a. dozens of touch-screen video displays.
Jewel Washing - After the jewels are sorted, grab ahold of a musical water spigot and start cleaning. Each spigot plays its own melody - heed Doc's tips and you may hear a collection of familiar tunes!
The Vault - Inside the door of the mountain, enter the center of the vault to find a collection of wooden barrels overflowing with glowing stones. Turn each barrel to see the ceiling above you transformed!
Miners Wanted - Join our Crew!
Celebrate the opening of the Seven Dwarfs Mine Train in style: Join our trusty crew of miners! Why? Because being a miner totally rocks! Start your training today!
Additional New Fantasyland Highlights:
Under the Sea ~ Journey of the Little Mermaid

- A major, all-new attraction during which you will travel with Ariel and her friends through their exciting adventures above and below the waves – all against a musical backdrop of songs from the classic film.
The castle of the Beast, standing majestically upon a hill just across an old stone bridge from Ariel's new home. The

Be Our Guest

Restaurant will feature a lavish dining experience in the elegant ballroom, gallery, and mysterious "West Wing" of the castle. With seating for 550, this magnificent facility will offer "great food fast" service by day and full table service dining in the evening.
Nearby in Belle's Village, you will find the rousing

Gaston's Tavern

and

Bonjour! Village Gifts

.
Just outside the village is Belle's cottage and

Enchanted Tales with Belle

. The adventure begins in Maurice's workshop, where a magical mirror is the doorway to a captivating new kind of storytelling experience: You are transported to the Beast's library to meet Belle and Lumière, and share in a lively, interactive, re-telling of the "tale as old as time."
You are invited to step into

Princess Fairytale Hall

, the new home for Disney princesses to greet their loyal subjects at

Magic Kingdom

® Park. This regal space provides the perfect setting to meet Cinderella, Rapunzel, and other Disney princesses as their timeless tales come to life. In Princess Fairytale Hall, "once upon a time" begins the moment you arrive - and "happily ever after" happens every day.
Entertainment is subject to change without notice.
Storybook Circus
The sound of the calliope will lead you to the brand new

Storybook Circus

and not one but two circling carousels of airborne pachyderms on

Dumbo the Flying Elephant

®. Before taking to the skies on this

Fantasyland

favorite, you can experience an array of fun-filled family games and interactive wonders for kids of all ages inside the Big Top.
Next door in

Storybook Circus

, the classic

Barnstormer

gets a bright new look as well, featuring Goofy as The Great Goofini. It's a twisting, turning roller coaster "flight" high above the circus fun.

Fantasyland Station

: Delight in the newest addition to

Walt Disney World Railroad

!

Casey Jr. Splash 'n' Soak Station

: Adjacent to the

Fantasyland Train Station

and area restrooms is the

Casey Jr. Splash 'n' Soak Station

, a circus-themed waterplay area. Water squirts from playful monkeys, elephants, camels and from Casey Jr. when he lets off billows of cooling "steam."
Pete's Silly Sideshow character greetings: A place where guests can meet some of their favorite Disney circus stars who wait to show off their special talents. The tent features two options: Join a line that leads to Minnie Magnifique (Minnie Mouse as a circus star) and Madame Daisy Fortuna (Daisy Duck as a fortuneteller), or head to see The Great Goofini (Goofy as a daredevil stunt pilot) and The Astounding Donaldo (Donald Duck as a snake charmer).
Download this flier (Adobe PDF) to share with your Clients.