Prepare to be amazed by the show La Nouba™ by Cirque du Soleil® at the Downtown Disney® West Side. This mesmerizing theatrical experience from Cirque du Soleil transforms the ordinary into the extraordinary. Guests will be captivated by its feats of physical daring and acrobatics and mystified by its scenery, lighting and score.
What is La Nouba?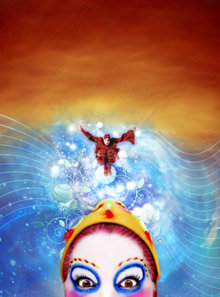 Once upon a time, a door opened and two worlds collided. Dreams clashed with reality. The mundane mixed with the marvelous. It was no longer possible to tell where one world began and the other ended. This new place was called La Nouba.
La Nouba transforms the ordinary into the extraordinary, engaging the imagination from beginning to end with opulent sets, brilliant choreography, theatrical lighting and provocative music. Featuring mesmerizing high wire and flying trapezes, stunning acro-gymnastic performances and other dynamic displays of coordination and strength, La Nouba promises to surprise, excite and mystify. Come to La Nouba, where anything is possible.
Show Dates & Times: Performances are held from Tuesday through Saturday at 6:00 p.m. and 9:00 p.m.
No performances on Sunday and Monday, or on the following dates:
September 16 - 20, 2014
November 4 - 5, 2014
December 9, 2014
Subject to change
Guests must arrive at least a half hour before selected show time. There is 15 minute pre-show and the feature performance is 90 minutes.